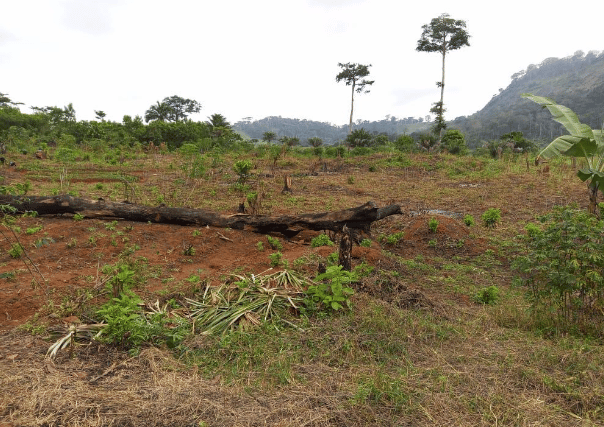 This is the story of a young man who was forced to leave his village of residence to live in the city: this is my story, I am Paul Lodry.
I was born in Yaounde but I spent part of my life in a village called Mfueng before having to return to the city of Yaounde.
My martenelle village is in Baleveng, a district located in the west of Cameroon. This beautiful village is mostly home to farmers like my family who cultivated corn, peanuts and beans.
Having no water supply network, we relied on rainwater and rivers for water to irrigate our fields and supply us with drinking water.
We were a family of eight people. We lived well and practised agriculture. Our crops were sold on market days which allowed us to provide for our needs.
Unfortunately, in 2019 the river that supplied us with water for drinking and our crops began to dry out gradually. The name of this river was "ndou dem", which means the river of GOD. It was called this because we believe that it was a gift from GOD.
We then saw our source of water start to dry up, and within two years it was completely gone. The drought that made our river run dry was happening because our rains were becoming increasingly scarce due to climate change.
Faced with this threat to our family, my parents decided to send me back to the city of Yaoundé to escape the crisis. I was not alone, there were several young people in the village, who like me, escaped the drought in order to seek a future in the city.
Unfortunately, we had no choice but to migrate to the city to escape from famine and poverty. The way of life and the culture in the city were so different from that of my village. I was forced to accept that I was abandoning my agricultural knowledge, a symbol of our cultural identity associated with other customers such as the practice of "ntio" and "congress" which are gatherings during which we would receive advice from our parents and ancestors of the village through their stories.
Besides, the more time passes, the more Yemba, which is my local language, is substituted by French and English, which are the languages spoken in the city. I can see my cultural roots disappear like we saw the ndou dem river disappear.
This situation that I lived in is one that many other families like mine around the world are facing.
Therefore, we call on developed countries to provide new and additional funding to support developing countries and communities like mine to address loss and damage from climate change
Written by Paul Lodry DONGMO