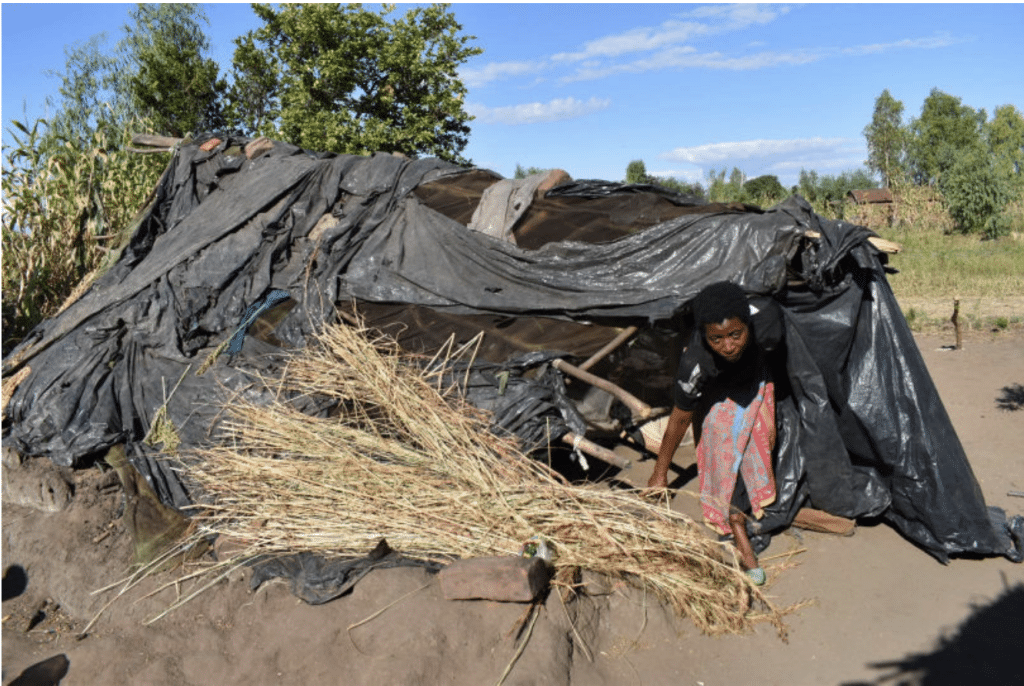 Yuda gets out of a makeshift.
BLANTYRE, Malawi: At 3 pm on March 14, 2023, Joyce Yuda, 52, of Ngundu Village in Zomba District, escaped the raging floods induced by Cyclone Freddy by a whisker. Yuda tried to get a sweater and wrapper cloth inside her three-bedroom house as water had risen to its window level. She says: "The waters arrived quickly, and I wanted to get additional clothes. If not for my husband, who pulled me out through a window, I could have died as the house collapsed soon after I was out."

Like other 346 households in the village, the seven-member household took shelter at a crammed Chimwemwe Evacuation Camp in Traditional Authority (T/A) Mwambo in the district. The camp's chairperson Philemon Tcheni says the ruthless surging waters crumbled homes and washed away or ruined their possessions. "Most of us escaped with only clothes we wore that day the tragedy struck," he says. George Chizimba, Yuda's husband, says they did not expect to be affected by the disaster.

Over the years, incessant torrential rains that have hit the southern region of Malawi have caused catastrophic floods in two Lower Shire districts of Nsanje and Chikwawa. This has been the result of increased runoffs in hugely deforested Shire Highlands that shallow-buried rivers in silt and forced them to burst their banks in the Shire Valley. Chizimba and others expected the familiar tragedy to occur in the two valley districts when the Department of Climate Change and Meteorological Services (DCCMS) made a debut projection on March 7, 2023, that Tropical Cyclone Freddy will enter the southern part of the country.

But the warnings from DCCMS were clear. Reads part of the statement: "Likelihood is also high that the cyclone will continue moving to Southern Malawi by Saturday or Sunday. The forecasted path of the cyclone includes Mulanje, Phalombe, Chiradzulu, Thyolo, Zomba, Blantyre, Neno, Mwanza, Nsanje, and Chikwawa districts. Damaging winds, torrential rains, and flooding are all possible risks in the highlighted areas from Friday."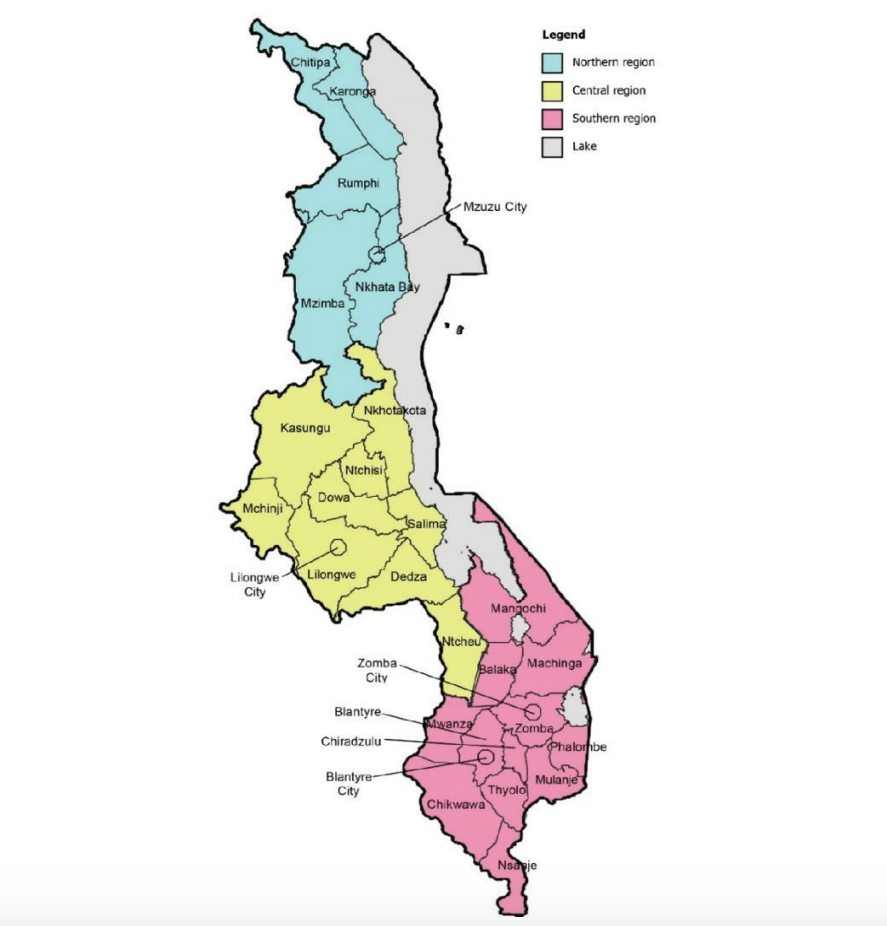 Districts of Malawi. Source: ResearchGate
The department advised Malawians to inspect the strength of their buildings and make reinforcement if necessary, to make evacuation plans if houses are not strong enough, to unblock waterways, to move to safer and higher grounds in terms of flooding, and to stay away from rivers, among others. It further asked the likely affected district councils to ensure civil protection committees are alerted and help people to move to safe grounds. But when the storm hit Malawi on March 11, 2023, the Shire Highlands (Blantyre, Mulanje,
Thyolo, Phalombe, Zomba, and Chiradzulu) suffered its brunt.

The unyielding downpour caused the severe surging floods and mudslides to render more places unreachable, destroyed crops, crushed houses, swept people to the grave, and buried others in mud and debris. People in the highlands have never seen such packed strong winds and rains snuffing off hundreds of human lives that constrained President Lazarus Chakwera to declare a state of natural disaster in the ten most-affected districts. Cyclone Freddy dumped in Malawi the equivalent of six months' worth of rainfall in six days,
according to the World Food Programme (WFP) of the United Nations.

The Department of Disaster Management Affairs (DODMA) in Malawi reported that the disaster affected 1.6 million people, displacing over 500,098 households, causing 676 deaths, and injuring 918, with 349 missing. Rose Thuboyi of Ngondo Village in Nsanje District says the cyclone shattered her life. The old woman, who has survived seven major cyclones that have hit Malawi since 2019, says she has been reduced to a beggar. "I have not recovered from the 2022 Cyclone Ana. The floods damaged my house and took away my belongings and livestock. Then Freddy came to damage the house I re-erected and washed away my crop fields. My farmland is now a river," she says. With her two grandchildren, they mostly eat once a day and depend on well-wishers and the government for their survival.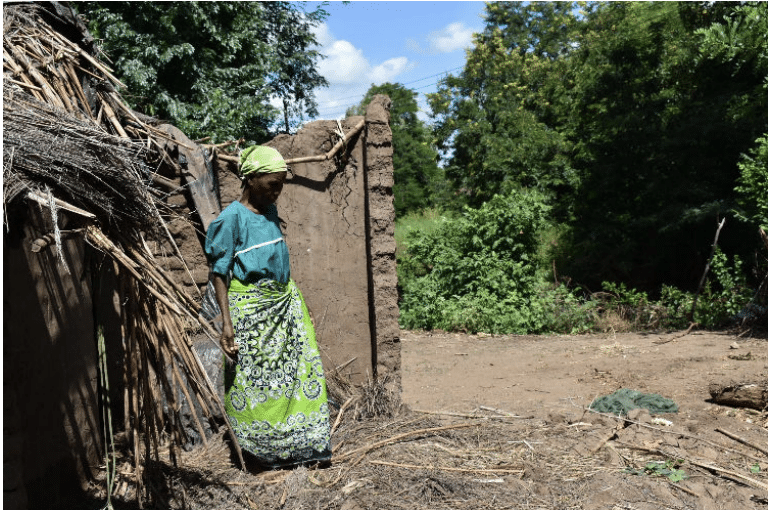 Thuboyi walks to her damaged house.
The climate crisis pushes the poor deep into poverty. Crises of Inequality, 2022 United Nations (UN) Research Institute for Social Development flagship report, shows the poor tend to suffer the worst consequences of climate change in a "poverty-environment trap." "Low-income households are likely to be located in or near flood-prone areas, to be displaced due to weather-related disasters, and suffer from climate impacts because their livelihoods are directly dependent on agriculture," reads the report.

Malawi is susceptible to depriving climatic shocks, especially floods and drought. This is despite Malawi being among the least developed countries contributing the least to global carbon emissions firing climate change.
While the poor and marginalized contribute the least to the climate crisis, they are the worst harmed by frequent disasters and lack resources to cope with loss and damage. DODMA spokesperson Chipiliro Khamula told Africa Climate News they face financial constraints in managing disasters. "Recovery and intervention needs are higher than the available resources," said Khamula.

The damage from the record-breaking cyclone has just worsened poverty in the country that has not recovered from damages of Tropical Cyclone Ana in 2022, which affected one million people and displaced 190000 causing 46 deaths, and also the estimated loss of $220 million from Cyclone Idai in 2019 that killed 60 people. Despite the 2019 post-disaster needs assessment by the government of Malawi, which estimated the recovery would cost $370 million, the disaster department only received $80
million for the exercise.

Malawi struggled to handle Freddy's devastation, and President Lazarus Chakwera called for external interventions. The floods and landslides have washed away and buried thousands of hectares of mature crops ready to be harvested in April, exacerbating food shortages in an already year in which 3.8 million people need food assistance. The Department of Climate Change and Meteorological Services forecasts that the country will experience more extreme weather events, including intense tropical cyclones, because of climate change in the future.

The department's head of public weather services, Yobu Kachiwanda, told The Nation that the country is vulnerable due to its proximity to the South West Indian Ocean where the cyclones develop and intensify. He explains why the loss and damage can only get worse: "An average of nine tropical cyclones develop in this part of the ocean. Land degradation, poor settlement locations, and poor infrastructure development that does not accommodate climate information in the design also increase the susceptibility of Malawi to cyclones."
As cyclones become more intense and frequent, Yuda and Thuboyi only hope to be empowered to relocate to safer places and build durable houses. However, there are interventions by international organizations such as Unicef, World Food Programme (WFP), Save the Children, and UNFPA that are providing food and non-food items for the immediate needs of the survivors. They are also providing them with mental and physical health support services.

They are giving the affected communities facilities to promote water, sanitation, and hygiene (Wash). They constructed pit latrines and provided clean water in evacuation camps. For the survivors to recover, they need funds to replace their belongings, move to safer places, erection of durable houses in the new places, and provision of social amenities and capital to revive their businesses or livelihoods for self-reliant and sustainable development. There is also a need to intensify resilience interventions. These demand resources to the
eco-conscious mindset of the communities to conserve the environment that strengthens their resilience to effects of climate change, funds for adaptation and mitigation, they should be compensated for the loss and damage caused by the climatic shocks as they are the most affected but contributed less or nothing to the climate crisis.